About
I have had a total of four hair restoration surgeries. I had my first two surgeries approximately 10 years ago.  The first two procedures were done with some older tech, and continued minimization left poor results.  Grafts were poorly angled and did not appear to be natural with enough density. Also, two donor scars were created in the donor area from first two procedures.
Dr. Robert Thomas- Chicago 2002 440 grafts 2003 580 grafts
July of 2012, Dr. Matt Leavitt1964 grafts- I had another procedure to correct prior surgery and create natural density.  I went to Matt Leavitt in Orlando FL. Overall, I was semi happy with the results, grafts were done correctly and looked great.  I just was not happy with the lack of temple work.  
I went to see Dr. Glenn Charles May 29th of 2013 for approximately 1100 more grafts concentrating in my temples and a little more density in the hairline. Waiting to see results but my experience with Dr. Charles thus this far has been remarkable.  His reputation does precede him.     
Enjoy!
My Surgical Treatments to Date
Session 1: 2002 486 grafts Dr. Robert Thomas, Chicago IL
Session 2: 2003 567 grafts Dr. Robert Thomas, Chicago IL
Session 3: 2012 1928 grafts Dr. Matt Leavitt, Orlando FL 
Session 4: 2013 1156 grafts Dr. Glenn Charles, Boca Raton, FL 
My Non Surgical Treatments
Rogaine 
Propecia
11/02/12 just started using HairMax comb 
Bald Class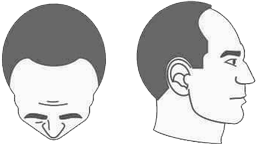 Norwood class 2A.
The class A variation of the Norwood scale is a slightly different and less common progression of hair loss. The main differences are that the hairline recedes back uniformly, without leaving an island of hair in the middle, and there is no bald area at the vertex. Instead, the hairline progresses directly from front to back.