About
I'd been aware of losing hair since I was about 25. A few years passed, and I ended up at one of the more infamous hair replacement outfits around, Svenson, based in - ironically - Wigmore Street in London. Having parted with a £1000 for two 'state of the art' units, which were horrifically thick wefts of hair attached to my own hair by braiding, I was then pretty much doomed to wearing systems for the rest of my life unless something (or someone) came along which either made me ditch them or offered a realistic alternative. Back in those days, hair transplantation was in its infancy, and anything that was done was pluggy and expensive. Svenson went, Senator Crown came and went, and then I found a nice, reliable lady called Heather who tended to my hair through my years post med school and until the present. The biggest revolution during those years was sourcing hairpieces through the internet. The internet also made it easier to discover what was happening with hair transplantation outside the UK, which took me to the major decision to book an appointment with Hasson & Wong for surgery the week after I retire, in May 2012. In preparation for this, I also started taking dutasteride (Avodart) in Feb 2010. The timing seems absolutely right, as my hair loss has stabilised (a Norwood 5A for many years), I've got a good donor area and transplantation techniques are probably as good as they're going to get. I can't say that I'm facing this without some apprehension but at least I won't have to go into work with a baseball cap!
My Surgical Treatments to Date
3rd May 2012: Dr Victor Hasson
One session, 4416 grafts: 959 singles, 3207 doubles, 250 multis.
My Non Surgical Treatments
Various hair systems over 25+ yrs.
Dutasteride 0.5 mg od since Feb 2010.
Nizoral shampoo and minoxidil 5% foam post HT.
Bald Class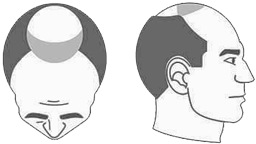 Norwood stage 5A
In stage 5A, the hairline continues to progress toward the back of the head.