About
I started to lose my hair when I was 24 years old in the crown. It
progressed to a Norwood 5a almost into a Norwood 6 by the time I was 36
years old. I was one of the fortunate members of the Hair Transplant
forum since I
was the third winner of 'Win a Free transplant' contest. This Blog
explains my journey along the way.
My Surgical Treatments to Date
On November 10, 2004 I received 2700 grafts. Dr. True and Dr. Dorin both performed this procedure.
My second procedure occured on January 18th, 2006 in which I received
an additional 1812 grafts and was performed by Dr. Dorin exclusively.
My second procedure results can be found in this webblog.
My Non Surgical Treatments
I started using Propecia in September of 2004 and continue to take it
once a day. I used Rogaine (5%) for about a year and found it wasn't
doing a whole lot for me so I stopped using it in November of 2005.
Bald Class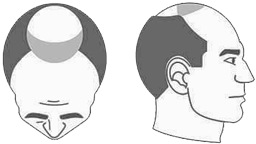 Norwood stage 5A
In stage 5A, the hairline continues to progress toward the back of the head.
Since it started in the crown when I was younger I really didn't notice
it as being an issue. After all you don't see that part of your profile
in the mirror everyday. As it progressed I found myself wearing a
ballcap all the time. This is coming from a person that never wore
ballcaps ever growing up. It started to affect my self esteem
especially after going through a divorce and being single again.
I have noticed that Propecia slowed my hair loss in the last year. I
haven't had much success with Rogaine in the past. It just seemed to be
more of a hassle applying it each day then the benefits I was getting
from it. The best overall hair treatments have been the hair
transplants that I had done with Dr. True and Dr. Dorin in New York.
I am extremely happy with both of my hair transplant treatments and the
results. The first one I didn't know what to expect but the results
were well beyond what I expected it to be. Although I am still in the
early stages of my second procedure things are going very well. Even
though I was a winner of a free transplant procedure I was treated with
VIP status by Dr. True and Dr. Dorin in both visits. The 'Win a Free
Hair Transplant' contest was only suppose to be one treatment. I
received an email from Dr. True and Dr. Dorin asking me to come back to
finish what they started. On this second procedure I had no swelling
due to the new anaesthetic that they were using. Again on this
procedure they used the anesthesia-delivery
machine called "CompuMed," or commonly referred to as the "Wand". Dr.
Dorin also mentioned they are using a new suturing technique that is
suppose to again minimize the size of the scar and allow more hair to
grow within the scaring area. This is essential in allowing more
follicles to be harvested in the donor area for any future procedures.
My local doctor was pretty impressed with the way they sutured my donor
area last year. So I am interested to find out what she thinks this
time. In both procedures I felt very comfortable being under the hands
of both Dr. True and Dr. Dorin. They both are very meticulous when it
comes to overall results.
I would highly recommend hair transplant surgery. With the techniques
used today and constantly improving you get the best results. You have
to make sure you use good reputable surgeons with a good track record.
As I mentioned in my experience it's surgeons like Dr. True and Dr.
Dorin that are constantly trying to improve the results and the
experience for the patient that really make the difference.
Self esteem and self confidence are probably one of the biggest changes
in my life. You feel good about yourself when you have your health and
a good overall appearance. It's not all about how people perceive you
but how you feel about yourself. Besides if you feel good about
yourself it is presented that way in all aspects of your life.
You have to make sure this is something that you want to do for
yourself and not for anyone else. Don't feel embarassed about getting
this procedure done you won't regret it once you see the results. I
have people at work that know that I have had it done and they are just
amazed by the results. They also say they cannot tell that I have had
anything done except for the fact that they knew the extent of my hair
loss prior to my procedures. Remember to do your research before you
choose a surgeon and remember they do free consultations.