About
I started losing hair density in crown and hairline in early 20s.  By late 20s, it began to become more noticable when I'd cut my hair.  Although I prefer to keep my hair short, I really take pride in my hair.  At 31, I wasn't ready for a receding hairline.  In Jan2008 I began using finasteride and minoxidil.  After one year, I didn't notice any significant gains, though the medications have apparently reduced further losses.  When I chose to get a hair transplant, I wasn't to the point where my hair situation was unbearable to me but I chose to act early before the situation got worse.  With hindsight being 20/20, I should have waited and conducted additional research.  I chose to go with a 1200 graft FUT to restore my hairline in Dec 08.  To date I feel this was a poor decision.  I should have done additional research and gone with FUE.  Due to price, I would have gone with less grafts, but I would still be able to wear my hair short and not have to worry about the strip scar on the back of my head.  Last week (Feb 10 2009) I had 310 FUE placed into my strip scar.  The FUE procedure has apparently made my scar look wider, though the procedure was only five days ago and may still be healing.
My Surgical Treatments to Date
Dec 08 - 1150 graft FUT to restore hairline with Dr. Mark Garbutt, New Look MD, San Diego, CA
Feb 09 - 310 graft FUE to cover strip scar from Dec 08 procedure with Dr. Parsa Mohebi, Los Angelos, CA
My Non Surgical Treatments
1.25mg finasteride daily / 1ml minoxidil 2x daily
Bald Class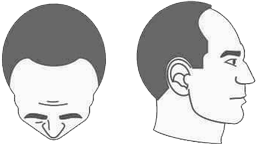 Norwood class 2A.
The class A variation of the Norwood scale is a slightly different and less common progression of hair loss. The main differences are that the hairline recedes back uniformly, without leaving an island of hair in the middle, and there is no bald area at the vertex. Instead, the hairline progresses directly from front to back.
Confidence though 2 months post op, strip scar has had significantly worse impact.
monoxidil and finasteride have slowed hair loss, though I've seen no significant regrowth.
Finasteride and minoxidil.
Yes, for the worse though I'm optimistic for future results.
Research like hell before going through with a transplant.  Though FUE is more expensive and statistically has less successful graft regrowth, if you EVER plan on a shorter hairstyle I'd highly recommend it over FUT.