Bald Class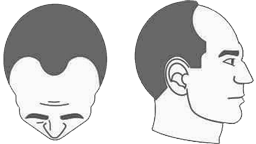 Norwood class 3
The earliest stage of male hair loss. It is characterized by a deepening temporal recession.
don't like to see too much frontal hairless scalp in the mirror- I am so vain !
Finasteride 1.25mg per day (quartered Proscar pills)
So far so good!!See my post on 1/25/08 in the "Hair transplants experiences" section of the main forum.
1. Finasteride with or without Minoxidil2. HT if situation becomes unmanageable, but only once hairloss pattern is clearly identified/stabilized (possibly not before age 30, but each case should be examined on its own merit)
.Young men should try finasteride (Propecia) first- No HT until hair loss pattern is established/stabilized.Carefully research your surgeon.Think medium/long term and have a strategy.Be realistic in terms of expectations.Complement HT with medical treatment (finast/minox) when appropriate