About
Growing up, my hair has always been fine on the top. But as I got older, the front started receeding gradually. I've been looking at hair transplant since i was around 25, but thank goodness I didnt do it with MHR or Bosley. I waited and waited, and told myself, its time to I got myself a nice birthday present this year.
My Surgical Treatments to Date
After months of researching and talking to members of the forum and doctors, I decided to go with a doctor that is not listed on the coalition network, but nevertheless delivered in my opinion excellent results. He understudy with a pioneer doctor in this field, and I have spoken with that doctor who reassure me that Dr.Diep does good work. With that, my surgery was scheduled. 1 HT session on 3-18-08. Initially, i was told I would need 1500 grafts to rebuild my hairline. During the procedure, the Doctor was able to harvest 1865 grafts which he nicely dense packed them in the front and reinforce behind the hairline and my native hair.
My Non Surgical Treatments
none, been on and off propecia, but im probably going to get back on and try for at least a year. I wont be using Rogaine tho, because I get a really bad itch from it.
Bald Class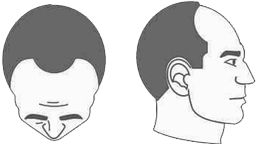 Norwood class 3A
The Norwood Class A patterns are characterized by a predominantly front to back progression of hair loss. These patterns lack the connecting bridge across the top of the scalp and generally have more limited hair loss in the crown, even when advanced.
i lost some confidence in my ability to interact with people, back of my mind, i thought people were staring at my high frontal hairline, especially females.
Too early to tell on the results, but looking at it, I know my Doctor did an excellent job.
I went against the grain and chose a doctor who was unknown to many, but like all great doctors on the forum, it only takes one patient to believe in their work.  I am that one for Dr.Diep and believe he will deliver excellent quality workmanship.
im happier now, and i cant wait when my hair starts growing out.   Hell, I just offer a new job because i got hair transplant done. =)
WOW, what a confident booster!!
research and research and pick a doctor who you are comfortable with. listen to your heart.