About
I am 23 and have been able to basically control everything about my appearance. I can workout, eat right, tan etc...Hair loss is the only thing that was out of my control regarding my personal appearance. I started noticing thinning in college despite know one noticing. People who are not receding or thinning do not look for it, but I knew and I was catching myself looking in the mirror often and examining every guy's hairline. It doesn't matter if others think you look fine, you do this type of procedure for you. I wanted to do something about it before it was too late and this way it will never be obvious.
My Surgical Treatments to Date
I am only 2 weeks post surgery but can say that I am so happy I went through with it. The pain is minimal for a few shots until you become numb in the head. I was in discomfort the rest of the day after surgery but nothing Tylenol couldn't handle. The next day I was at work without anyone noticing. I did my due dilligence, went to several surgeones for consultations and Dr. Charles in Boca was an easy decision to make. His long list of credentials, friendly and knowledgable staff and honesty were all reasons the decision was easy. On the day of surgery everyone was super friendly and focused. They even supplied me lunch as I wacthed ESPN the entire time. He didn't say I would have a helmet of hair but gave me real expectations. I have healed almost 100% in less than two weeks and cannot say how the actual results are until 6-8 months pass. This was my first session ever and I had about 1900 grafts transplanted. If anyone is considering getting a transplant but is scared for whatever reason (pain, I can't think of anything else) it is beyond well worth it and like I mentioned, short term discomfort. I would highly recommend doing your research as this is a big decision. I also highly recommend starting at Dr. Charles' office.
Bald Class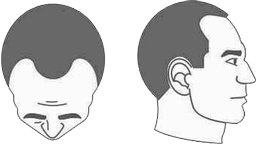 Norwood stage 2
There is a slight recession of the hairline around the temples. This is also known as an adult or mature hairline.