About
Losing hair since early 20s (over +10 years) in the middle of my college years.  I didn't think much of it at first since I was too busy worrying about graduating school and landing a job.  Shortly after graduation, the job market was difficult, and most unemployed like myself stay up late and watch info-commercials, like hair transplant!  Doing numerous research, the idea of strip procedure and cutting my scalp pretty much scared me from ever doing hair transplant.  In addition, the FUE procedure was just being develop.  Obviously at the time, not many surgeons can do this procedure and was probably very expensive back then.  So over the course of several years, I'll spend every now and then on hair transplant on the internet, but never really taken it seriously.
Flash forward to summer of 2011.  In one summer weekend afternoon, I was watching Transporter 3, starring Jason Statham.  A bald guy with the buzz-cut looks very good on him.  He's of the rare exception that do not need a hair transplant.  I figure I probably might look good if I buzz-cut my hair.  So the following day I buzz-cut it and as soon as I looked in the mirror, I immediately regret doing it.  I've done a lot of crazy things in my life, and that was one of them.  So the following day, I've decided to do some research about FUE procedure.
As a general rule, it's never wise to pick someone locally.  But since I live in the Bay Area, I wanted to see if there might be a chance that a large population area can have at least one decent doctor that could help me.  So I googled something like "FUE Bay Area" or "Fue San Francisco".  And I found some guy name Dr John Diep.  Naturally, you google his name, research everything about him, and looked through his website.  He has great reviews, John Diep is board certified with the ISHRS & AHLC and worked under Dr William Rassman. Voted one of the best hair surgeon in 2010.  One of the best and few FUE surgeons in California. And specializes in ethnic hairline.
One of the most amazing things that attracted me to his clinic was the hundreds of YouTube videos that he creates for all his patients.  (YouTube Username: jgdiep) There is no other hair doctors out there that would take the time to video his work, included before and after photos, and customer testimonials.  He also explains his "7 rules for hairline".
I decided to immediately schedule a consultation with Dr Diep.  Dr Diep is professional, caring, addresses your need, answer all your questions with honesty, and educate you on the procedure.  He even drew where my appropriate hairline should be.  I felt good leaving the consultation, but I also wanted to carefully think it over before making any decisions since I had my upcoming Hawaii trip to look forward to.   So after sitting on the beach and chugging down Mai Tais for two weeks, I decided that I want this FUE procedure with Dr John Diep.  But there was still the issue of finding time away from work for at least a week.
As many months went by, and doing hundreds of more hair transplant research, I was able to find the right date (late December) to do the procedure.  So I scheduled a 2nd consultation with Dr Diep, and asked him even more questions than the first time.  I felt comfortable with Dr Diep and went ahead to book my procedural date.  We will attempt to do 2,000 FUE grafts to build my mature hairline and fill in the rest of the top.
My Surgical Treatments to Date
1 Session2,026 FUE Grafts
Dr John Diep
My Non Surgical Treatments
Bald Class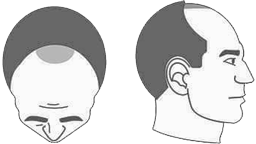 Norwood stage 4A
In stage 4A, a person will not experience a bald spot on the back of their head, but they will instead lose the dips in their hairline and have a deeper "U" shape when viewed from above.
Like every baldies out there, it affects you on an everyday basis.  You wake up in the morning and stare in the mirror on ways to comb your hair and try to hide the fact that you are getting bald.  After showering, you stare in the mirror and realize that it just seems to get worse.  So I'd say it's mostly staring in the mirror and saying to yourself of what can be done, and feeling the lost of hope.
Let's not forget on windy days that blowing my hair will show the world on how extensive my receding hairline had become.
I've tried generic propecia and rogaine many years ago.  It didn't work well for me, since it does not work on the hairline.  The idea of taking pills and those stupid rogaine liquids everyday is simply not for me.
Yes!  I am extremely satified with my results.  Granted, it is not perfect density, but I am happy with what I paid for.  Another transplant will give me excellent density if I choose another procedure.
I know everyone always recommend pills to begin with.   But I believe if you choose the right doctor, doing FUE transplant is the way to go for a permanent result.
I no longer stare at the mirror feeling depressed or lost of hope.  You feel much more confident when meeting new people, going to a social event, and even to work everyday.  And you'll finally feel comfortable taking photos as well.
Do your homework and research all procedures and doctors.  
And don't expect perfection with only one procedure.