About
I started losing my hair at when I was 20-21, some kind fellow worker had great delight in pointing out to me- 'hey your going bald' thanks for that, then followed 15 years of constant comments which haven't driven me suicidal but have hugely knocked my confidence, I started looking at solutions around 2000 and have used cover ups for some time and had a spell of propecia but had to stop due to the expense, so toppik has been used for around 7-8 years. That was ok and relatively affordable but, starting to look silly and noticeable. Decided after reading an article in the press that fue/ fut had really come on albeit at a price- Went to Farjo's in Aug 09 for consultation, then had to work miracles to raise cash to surgery in Feb 2010....
My Surgical Treatments to Date
Had 2700 grafts at Farjo's Feb 2010
My Non Surgical Treatments
Used Toppik since 2002
Bald Class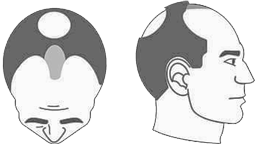 Norwood class 4
Characterized by further frontal hair loss and enlargement of vertex, but there is still a solid band of hair across the top (mid-scalp) separating front and vertex.
Quite a lot,.it's hard to describe, luckily most people on here share the common understanding on how horrid a feeling this whole thing is, spend so may days thinking why me?
Confidence has been knocked a lot, playing in mens sports teams for past 15-20 years hasn't helped with constant ribbing- which sometimes went too far.
 
Toppik was great for quite some time, but as I got balder it started to lose it's usefullness.
Too early to say , but I have realistic expectations as I have had crown work done- anything better than now has to be an improvement