About
I started noticing thining in my frontal area about 4 or 5 years ago. It was gradually getting worse so i decided to have a treatment to reinforce my hairline before it got too bad. I had been doing research on hair transplants for a little over a year and found Dr. Glenn Charles out of Boca Raton. He teaches seminars on transplants so i was confident he would do a good job and from the moment i meet him i was reassured. I felt very comfortable through my consultations and throughout the entire surgery. It was done very well and extremely clean. Now all i have to do is wait and hope for the best. Thank you Dr. Charles.
My Surgical Treatments to Date
As of now i have had one treatment of about 1700 grafts done by Dr Glenn Charles.
My Non Surgical Treatments
I have Been using Monoxodil for around 3 years and just recently started Propecia a couple weeks ago. 
Bald Class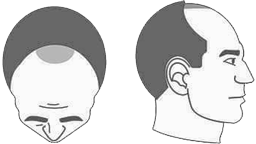 Norwood stage 4A
In stage 4A, a person will not experience a bald spot on the back of their head, but they will instead lose the dips in their hairline and have a deeper "U" shape when viewed from above.