About
I have been reading other testimonies on this web blog. I really miss my days when my hair was all full. I want to get that image back, if not the young age, at least the hair.
Dr. True seems to have earned some good testimonies on this forum here. I scheduled an appointment with him last year and other hair restoration doctors in Massashusetts. Other doctors seem to have lower rates and they are local, meaning I don't have to travel to New York to get the procedure done. Reading further, people seem to recommend that the surgery costs that much and it's really not something you do too often, so pick a good doctor and travel to him to get the job done right. OK, I get the point. I was a bit tight with cash last year, so I waited until this year to do get the hair transplant done.
I contacted Dr. True's office and was told that I didn't have to schedule another appointment for evaluation. That means the estimate of 1400 graft surgery still stand. Oh well, I'll go for it. My surgery will be this Nov 14th 2007. Dr. True and his staff so far seem very professional. I sent his assistant an email, CC him on a Saturday with a pre-surgery question on a Saturday without much hope that I'd get a reply until Monday. Nope, Dr. True himself called me at home to address my concern on the Saturday afternoon. I'm happy so far.
I'll send more updates.
Bald Class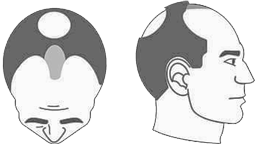 Norwood class 4
Characterized by further frontal hair loss and enlargement of vertex, but there is still a solid band of hair across the top (mid-scalp) separating front and vertex.