About
Clear and simple
Ive been dodging the camera for last 2 years, completely lost the hairline, I was conscious from Day 1 about how I look or carry myself.. 
Around college time when I was 21, 22 : I started thinning and loosing hair drastically.. And it keeps on haunting me back in cycles.. 
My Surgical Treatments to Date
Rogaine on and off
Omega 3/ Fish oil 
My Non Surgical Treatments
Bald Class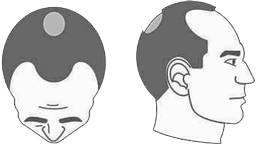 Norwood stage 3 Vertex
In terms of the receding hairline, stage 3 vertex balding is a less drastic version of stage 3.
However, people experiencing stage 3 vertex balding will also begin losing hair on the crown of their head. This often starts as one small bald spot.
Lets see I am going to have one