About
My hair started thinning at the age of 28 from the crown area.
My Surgical Treatments to Date
3615 follicular units in 1 session by Dr. Parsa Mohebi
My Non Surgical Treatments
I have tried lotions such as Rogaine, Minixidil without any result. I also tried Proscar  without any significant result.Finally I decided to have a hair transplant.
Bald Class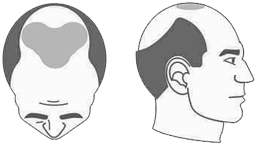 Norwood stage 6
The balding areas at the temples join with the balding area at the vertex. The band of hair across the top of the head is gone or sparse.
The slow and progressive hair loss was not a really big deal for me at that time because I was married and pretty happy with my life. But once I got divorced, that was much harder and my hair loss had a great impact on my self-esteem and confidence.
I tried Mioxidi and Proscar not on a regular basis and have not seen any progress. I probably used them for a period of 3 or 4 months and then gave up.I tried that many times but not consistently and for a long period of time to see the expected result
I will update that after July 3rd (my surgery day)
Don't wait too long and waste your time to have a hair transplant. Do you homework and see a few surgeons and then decide who will perform your surgery. Don't postpone it to later. earlier better.