About
My Hair transplant experienceDr Jean devroyeMy first hair transplant surgery with Dr Jean Devroye was an experience. I should first say I am around a 3V on the Norwood scale.It was a 3 day visit to Brussels.On the first day I met with Dr Devroye for the consultation.It was a short visit, His first question was "would I like to shave my recipient area or not?". I asked him the advantages and disadvantages of both. I decided that shaving would probably be the best option, (Dr Devroye was not biased toward doing either it was completely my decision). Shaving the head makes it easier for the doctors to work on your transplant. He drew the hairline he was thinking of and asked me what I thought. I was pleased with it and so was my girlfriend.The next morning I had a big breakfast and went to the clinic at 8am. Once all the staff arrived they got straight down to business, they took the before pictures shaved the recipient area and drew a hairline and started on the anaesthesia. This is the worst part with the needles but was skilfully done by Antony. They offered me some valium but I didn't bother taking it. (im not a fan of taking pills if there is no need). Dr Devroye removed the stip. The sensation of the removal of the donor strip is hard to explain. It's painless but there is a feeling that something is going on. With the strip removed they sent it off to be split into grafts. The donor area was stitched up while some temporary staples were placed in as well (staples were removed the next day).Next my recipient area was prepared by Dr Devroye where he used some special tools that were developed by "hasson and wong"By the time Dr Devroye had prepared the recipient area the first set of grafts were ready to be implanted. A test graft was done, once that was ok they started implanting the grafts. It was discovered that they had to place the grafts with a space in-between each graft because of popping. They went over the spaces later after the grafts had settled. After approximately 30min lunch was ready. We had a break for lunch for ~20-30min.The first estimate for the amount of grafts was around 2414. For the next few hours it was place a quarter of the grafts and take a break and so on. By the end of the session a total of 3086 grafts were planted. It was a long day from about 8am to 8pm. The whole team were great, there was never any felling that they were trying to speed up to get the procedure finished. It was a successful day altogether. Some after pictures were taken and then Dr Devroye dropped me back to the hotel where the long night of spraying my head with saline solution began. I set my phone alarm to go off every 30min. I may have had a few min sleep in-between some of the 30min sprays. The clinic supplied me with everything, a neck rest so I could sit up comfortably in bed and a hat so I could make way down to the clinic the next morning without feeling self conscious of my shaven head.On the final day i called down to the clinic to get the grafts examined and the staples removed by Dr Devroye. Everything looked good.I will upload the pictures once I receive them from the clinic. I will keep you up to date with progressive pictures.Hope everything goes well!FU1: 431, FU2: 1229, FU3: 1120, FU4: 264Total grafts: 3086Total Hairs: 7455
My Surgical Treatments to Date
1 transplant on the 6/4/2011
My Non Surgical Treatments
none
Bald Class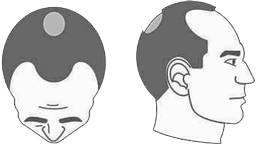 Norwood stage 3 Vertex
In terms of the receding hairline, stage 3 vertex balding is a less drastic version of stage 3.
However, people experiencing stage 3 vertex balding will also begin losing hair on the crown of their head. This often starts as one small bald spot.
The hair loss so far has not affected me as drastically as it has other
people. But I can see myself getting obsessed with it so I decided to pre-empt
any obsession.
I would generally be a confident person but when people started commenting about
the hair loss I didn't want it to take me down so I obsessively did my research
over a period of time and made the decision to just go and get it done sooner
rather than later.
I have had no treatment done previously
The procedure went well, but its too early to tell about the results.
Not sure, its really up to the individual which route they wont to go down.
I don't see it changing my life drastically because i pre-empted it before
it became a problem for me. I could see the start of the preoccupation of hair
loss.
But if i left it for years and it got alot worse, i would have been very conscious
of it and would have started to pick away at my confidence. Hopefully it will
let me forget about hair so i can obsess about something else :)
If it gets you down get a transplant after you do your research. If it doesnt bother you that much and you know your head looks good shaven. Go with the shaven head option. Some people are not born with the best shaped head for the shaven look. Some people look better with a shaven head then a head of hair.