About
I saw losing my hair over time and I really wanted to do something about it but I always had a second thought until I heard and saw Dr. Mohebi procedure.
I have seen GREAT results from Dr. Mohebi's hair transplant. After initial Skype consultation, I decided to go to LA and do the hair transplant. They booked hotel for me near the clinic.
It was one day precedure (8am-6pm) without any complications. Dr. Mohebi and staff were extremely friendly and nice. I had a great experience. The next day, they washed my hair and gave me the instruction.
It has been 9 months now and I have seen great results. I look 10-15 years younger.
My Surgical Treatments to Date
One session, one day, about 4300 hairs
My Non Surgical Treatments
none
Bald Class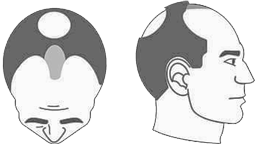 Norwood class 4
Characterized by further frontal hair loss and enlargement of vertex, but there is still a solid band of hair across the top (mid-scalp) separating front and vertex.