About
Started noticing my hair loss about 5 years ago. It did not concern me that much until it really started accelerating about two years ago. I toyed with the idea of a HT until ulimately I knew if I didnt intervene I would have nothing on top by the time I was 35. This bothered me and I decided to go ahead with the procedure.
My Surgical Treatments to Date
I had my surgery recently in April 2011. It was my first surgery. Dr Devroye was able to get 3855 grafts and from this i had 9022 hairs transplanted. I believe this is a high number and was down to good thickness in the donor area and Dr Devroyes advice of daily massaging gave the donor area good elasticity.
My Non Surgical Treatments
I take proscar 1mg daily and 5% rogaine twice daily.
Bald Class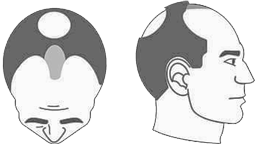 Norwood class 4
Characterized by further frontal hair loss and enlargement of vertex, but there is still a solid band of hair across the top (mid-scalp) separating front and vertex.
I did not like the way my hair was going. Although I was aware of it over the last five years it was only in the last 18 months that it started to really look patchy. This made me quite self concious of it and it was then that I decided to get a HT.
Dr Devroye and his team were a pleasure to deal with. I decided to go with his clinic following research online and his membership in the coalition of ultra refined hair restoration.
On the day of the procedure I arrived at 8am. He looked at my donor area and asked me if he could get more than 3000 grafts would I like for him to take as much as he could get. As it would give me more coverage and it was more economical I agreed.
The procedure was mostly painless. They made me feel very comfortable and the donor area and incisions were made before lunch. Lunch took about 40 mins and then they started planting the hairs. During the planting if I felt anything I let them know and they topped up the anaesthetic. At no point was there pain. I also managed to watch a season of Seinfeld whilst they were working. They finished at 6:30pm.
I have only had the procedure so I have no results but will keep you posted through pics.