About
I have been fighting with hair loss since 10 long years & finally
after a long research & financial struggle i have managed to get a
surgery with the numerouno for mega-sessions Dr Victor Hsson of
Vancouver Canada.The day of surgery was 26th October and it was a long
tiring day for me.The surgery started at 7.30 sharp and went on till
12.30 am.I stopped Rogaine 5% 3 months back so no excess bleeding was
there but due to less movement, no stretching my clothes bacame sweaty
and i even had low bp and due to which i became unconscious for some
time.But Dr Hasson gave me some liquids via trip in my vein & i
recovered soon
My Surgical Treatments to Date
Surgeon - Victor Hasson No of Grafts - 5932No of session - 1 Surgery Time: 7.30 AM to 12:30 PM
My Non Surgical Treatments
Generic Finesteride,Rogaine 5% (Shall start it soon).
Bald Class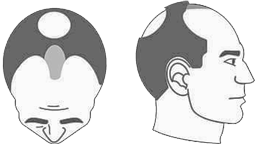 Norwood class 4
Characterized by further frontal hair loss and enlargement of vertex, but there is still a solid band of hair across the top (mid-scalp) separating front and vertex.
I have been hiding my head with a cap for almost 10 years.It made me depressed,low,shy and shattered me from inside.
I think Generic Finesteride,Rogaine work for maintaining but if you stop then you will face the same problem with even worse results.
Its only 11 days so cannot say much.It was a long,painful journey.
I  still have to see my results.
Dnt think of money.Be prepared to travel and empty pocket if you want a good result.The docs listed on this site are the best.