About
Lost hair over a twenty year period. Pic was taken Feb 2010
My Surgical Treatments to Date
Dr Farjo, 01 07 2009
Total Grafts: 2134
Strip Size: 27 x 1.1 cms
Closure lower trichophytic
Number of 1 haired grafts: 324
Number of 2 haired grafts: 1606
Number of 3 or more grafts: 204
Bald Class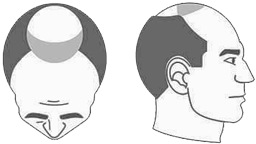 Norwood stage 5A
In stage 5A, the hairline continues to progress toward the back of the head.
Not really. Happy wih result. I often remark that I I lost my two front teeth that I would do something about it. The same situation applies to my hair.
Read others blogs and make sure you are happy withyou surgeon.