About
HT Surgery performed:  May 4th, 2012
Ethnicity: Afghan (both parents born in Afghanistan)
Age: 33 yrs old
Height & Weight: 6 foot 1.5 inches tall,  180 lbs, in great physical shape, no past medical history
- Before losing hair, I had black, med-thick curly hair, with good density throughout.
My Surgical Treatments to Date
4214 grafts
Dr. John Diep and his staff in Los Gatos, California (San Francisco Bay Area)  
I had him concentrate on my crown area since to me, this affected my appearance the most.  
My Non Surgical Treatments
I used Rogaine starting at 24 yrs old until I was 30.  I quit completely 2 years ago because I kept losing hair, and it was such a pain to keep using twice daily.  I had to up my dosage to get results, and I just wasn't going to do that.
I had many opportunities to take Propecia, but was too scared of its side effects, so I never turned in my script to the pharmacy.   I'm so glad I didn't because HT surgery makes so much more sense.
Bald Class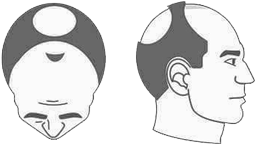 Norwood stage 5
Occurs when the connecting bridge of hair disappears leaving a single large bald area on the front and top of the scalp. The hair on the sides of the scalp remains relatively high.
Self-confidence, appearance, and I look 5 years older than I am
Rogaine initially, but it tapers off unless you increase dosage, and I wasn't about to sleep with a drenched head every night.
Yes, and the results are pending as this is my 2nd week post-op.
Rogaine at first, but then HT. I wanted to wait till my balding was close to it's peak.
Updating this section later