About
To start, my name is Mike…..and I am a 32 year old male living in the Reno/Lake Tahoe area of the Western United States!  I first started losing my hair when I was about 24…..while I was just finishing up my college years.  For a long time, I tried to convince myself that my hair wasn't thinning…..and that I was just having a mid-life crisis and being "ridiculous" and "paranoid" every time I looked in the mirror.  After all, I was always the kid that had a FULL, THICK head of hair….and it couldn't possibly be going anywhere.  My hairdresser always told me:  "Hey Mike, look on the bright-side; you will NEVER GO BALD".  As I am sitting here writing this, I am probably a solid Norwood IV….on a good day!!!  OUCH, even my own hairdresser was wrong!!!!
As most of you who have, or are going through this know…….losing your hair is pretty devastating!!!  I never knew how depressing it could be, until it began happening to me.  Unfortunately, I am not like the many guys out there who are  comfortable enough with themselves to just buzz their head and embrace their baldness. The only way I'll ever be content with my hair….is to have it back!!  It doesn't help that I had very negative self-image/poor self-esteem for the majority of my childhood years?!  Confidence is important to have in life, and that was something I always lacked.  See random (probably useless) paragraph below…..
When I graduated high school at 18 years old, I weighed in at 302 lbs ( or for you Canadians and anyone else on the metric system…..137 kg)!!!!  Over the course of the next 2 years I dedicated my life to eating good and exercising, and succeeded in losing 155 lbs.  With this drastic transformation, I was (for a short time) starting to enjoy what it felt like to be fit and attractive on the outside for the first time in my life!!  It felt great….I felt like I had made the ultimate accomplishment……and then I started losing my hair.  Today, I look in the mirror and see someone who looks at least his age…..or older.  I do everything in my power to style it in a way that covers up my bald spots.  For the last couple years of my life….I bleach my hair bright blonde, as it gives the appearance that I have more hair than I do.  No more!!!!  It is stopping today!!  I am finally doing something permanent about it, and ending this depression and poor self-image once and for all!!!!!!  I have worked too hard to change myself for the better to let something as simple as this (Hairloss) hold me back.  Which is why I researched hair restoration.  Which is why I chose Dr. Rahal.  Which is why I am writing this today!!  I am hoping to achieve between 4500 and 5500 grafts with Dr. Rahal via FUT 
Anyhow…..sorry  for the excessive rant.  I just wanted to write this so you all understand a little bit more about me…..a little bit more about my background, where I'm coming from, and why I am here today!!  I really hope you guys reach out and get to know me as time goes on.  I absolutely love meeting new people, and think it is great having support while going through procedures/changes like this.  I plan on keeping a FULL hair restoration blog on this website to chart my progress throughout my entire journey!   I plan to post photo's and all of my struggles/thoughts/concerns/emotions/experiences along the way!!   Please don't hesitate to contact me anytime with any questions, concerns, criticisms…..or if you're just looking to make a new friend!  =)    I will post a few photos below to show you my hair in it's current state (which has been preserved from further loss for the past 3 years with the use of Proscar….or 5 mg Finasteride…..quartered and taken daily), so you can all get a better idea of where I'm starting out pre-op!  Because of my location/distance to Dr. Rahal (and a couple other surgeons I was considering), I had all of my consultations online.  These are the photos I submitted for all of my online consultations to help the surgeons make an accurate assessment and plan an appropriate treatment.  These photos were taken by me, and are being posted here in hopes of charting the changes that will hopefully occur over the next 12 months at the hands of Dr. Rahal……hoping to be that next "AMAZING TRANSFORMATION" here myself.  As you can see, my hair looks awful (and so do these particular pictures of me…..sorry guys).
Thanks for reading everyone!!  I'll post again in two weeks time, after I've undergone my procedure at the Rahal clinic!  I plan to stay at the Foxbar Guesthouse a few nights post-op, so I will be sure to follow-up with a write-up there as well!!
Until then……
Best,
Mike
My Surgical Treatments to Date
4737 Graft Procedure with Dr. Rahal in Ottawa.  Total of 10,163 hairs were distributed to my crown and frontal 1/3 of my scalp.  Procedure was done on 11/16/2012.
My Non Surgical Treatments
1 mg Finasteride (1/4 of 5 mg Proscar tablet)-  Daily
Rogaine Foam-  Twice Daily
Multi-vitamin, fish oil, biotin supplement, MSM, Complex B-vitamin tablet-  Daily
Bald Class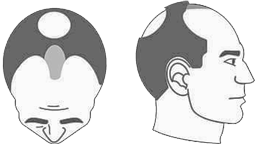 Norwood class 4
Characterized by further frontal hair loss and enlargement of vertex, but there is still a solid band of hair across the top (mid-scalp) separating front and vertex.
Losing your hair is devastating!  PERIOD!  Worrying about your hair in your 30's is a major blow to your self-esteem.
Until my recent hair restoration surgery, Finasteride and Rogaine definitely helped slow the progression of my hair loss.  I'm so thrilled I discovered these drugs before I underwent my hair transplant.
So Far, So Good!!  I feel like a new person.....and there are still some exciting times ahead of me while I wait for the transplanted hair to thicken.
If you are a good candidate......a hair restoration procedure can have an amazingly positive impact on your appearance and your self-esteem!!  Do your research, and consider it, if it is a good fit for you.  Me personally?  It changed my life!!
I feel like a new person.  Really, I can't emphasize it enough!  What a positive and rewarding experience.
Do your research, and utilize the information/support/advice in the hairrestorationnetwork forums to help aide in your decision.  The community is a valuable source of knowledge and information to help you make the best decision for you!!  It's like my family away from family.......and I feel so grateful to have stumbled across the website, and the amazing support of its members.