About
I have not lost any hair. I am a 19 year old college student who has almost no chance of having a receding hair line. My hair will always be nice and thick, but I'm not here for myself. I'm here for my brother, Alex, who is my genetically identical twin brother. Alex was diagnosed with stage four Medulablastoma when we were 12 years old. After the maximum radiation treatments allowed and several rounds of chemotherapy, Alex beat the disease a year and a half later. However, he was left with almost no hair on his head - what was left was thin and whispy, and his scalp is easily visible everywhere, including the shunt that serves as an overflow for his brain fluids. This shunt is the worst part of his baldness - it makes his head irregularly shaped and is the main target of stares by our peers. If it weren't for the shunt, he'd go bald - but that's not an option. So that is why I decided to donate my own hair to him.
A few months ago, our dad contacted a hair restoration professional named Dr. Glenn Charles in Florida. He sent him an email detailing our situation, and asking what possible paths we could pursue. Within the hour, Dr. Charles called back, and said that he'd do whatever was necessary to help us out, given the fact that he has identical twin boys of his own.  Dr. Charles contacted the International Society for Hair Restoration Surgery and requested financial aid to help us. A few short months later, we found ourselves en route for Fort Lauderdale. There, Dr. Charles and his staff, as well as certain hair restoration "celebrities," took a very personal interest in our case, ensuring the absolute success of the procedure. We went with the Artas follicular unit extraction system, to minimize the impact on my own hair and ensure perfect grafts for him. Anesthetic aside, the procedure was painless, quick and efficient - surprisingly so. Even as they removed the follicles from my head, nurses began implanting them in Alex's in the next room over. All in all, more than 950 follicles were transplanted. This is but one procedure of many; more of a test really, to ensure that the procedure will work. We're sure of its success, though. Dr. Charles and his team and the Artas system's efficiency are proof enough.
My Surgical Treatments to Date
950+ follicles removed from my head, implanted into my twin brothers'. 
My Non Surgical Treatments
Bald Class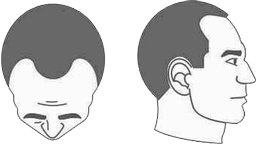 Norwood stage 2
There is a slight recession of the hairline around the temples. This is also known as an adult or mature hairline.
Although it hasn't affected me directly, I can see its effects on my brother. The looks he gets and his lower self-confidence are results of his hair loss. 
Although it is still too early to tell the results, especially due to the experimental nature of our situation, we are both incredibly happy with our experience with Dr. Charles. He made everything move smoothly and efficiently, and it feels like we spent no time at all in the office.