About
In 2005, I was diagnosed with a malignant brain cancer.  After 9 months of rigourous treatment, which included the maximum amount of radiation allowed for medical treatment and six months of caustic chemotherapy treatments, I was completely cancer free, and have been since.  While most chemotherapy patients will regrow their hair after treatment, mine grew back extremely thin all around and almost non-existent on the scalp. 
After seven years of waiting, I finally decided to seek treatment for my hair loss.  This is where it gets interesting.  Since I have no donor areas at all, Dr. Charles did something truly extraordinary.  He used hair from my identical twin brother to frame the front of my scalp, to give the appearance of a full head of hair.  We only did a small amount, 957 individual grafts, because this has never been done before.  Most people have no problem because the hair removed is their own, and even though blood tests have proved that my brother and I are 100% genetically identical, we wanted to make sure it would work before we did anything more. 
Another really cool part of the operation was that Dr. Charles used a revolutionary new machine, the ARTAS.  It uses mathematical algorithms to count the individual hairs in a 25 sq cm grid, then uproots them, spacing them for maximum yield without removing enough to show and also with no scarring.
From the moment we first made contact with him, Dr. Charles has been nothing but extremely supportive and excited to do whatever possible to help restore a sense of normalcy to my life.  I am absolutely sure that there is no one else like this man, and because of his obvious expertise and care for his patients, I would reccomend him to anyone in need of anything from advice to hair restoration.
My Surgical Treatments to Date
One session, 957 individual grafts, Dr. GlenN Charles of Charles Medical Group, Boca Raton, FL
My Non Surgical Treatments
Bald Class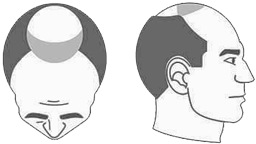 Norwood stage 5A
In stage 5A, the hairline continues to progress toward the back of the head.
Losing my hair due to cancer caused a lot of self-confidence issues and a loss of self-worth because I saw how everyone would look at me.  I feel that it has cost me a lot in social and professional situations.
Transplanting is the only one I've tried, and it was done only four days ago.
I'm very happy with the experience, Dr. Charles is an amazing doctor and an even better person.
If it's right for you, hair transplantation is very effective.
Do your homework.  Don't rush into anything, and if you're sure it's right for you, then have no doubts.