About
In 2003, I started noticing a thining vertex area at the age of 28. 3 years later I started to be concerned about it and by the age of 33, I started considering surgery.Of course, most of my friends and relatives wouldn't understand, as I have a full front hairline and I manage to hide my bold vertex by combing my hair over it.
In 2009, I had planned a surgery with DHI in Athens. However, shortly before the surgery, I found several negative testimonies and I cancelled it. I just went to their web site and noticed many familiar faces in their testimonial gallery that were supposed to have surgery in 2012. However, many of those picture existed already when I looked them up in 2009.
In 2013, I decided to have surgery and contacted the following doctors in Belgium:
- Dr. Bijan Feriduni: could only find positive feedback, but would have had to wait 7 months to get an appointment, the surgery would have been done 1 month later, but the date didn't match my calendar
- Dr. Christian Bisanga: got an appointment rather quickly and when I met him, I had the feeling that he needed to show off and that it was all about the money. After he had counted my hair and measured my bold vertex area, he said that we'd need 1600 grafts. I told him that it seemed to me that it might not be enough grafts for a nice result. He then said that I was right and that 2700 grafts would be better. 
- Dr. Jean Devroye: when I met him, I just felt comfortable. He showed me the clinic and made me chat with his patient of the day.
My Surgical Treatments to Date
FUT by Dr. Jean Devroye in Brussels
# grafts: 
4124
# hairs: 
10275
My Non Surgical Treatments
none
Bald Class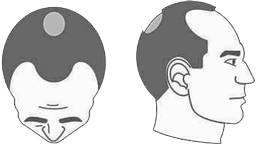 Norwood stage 3 Vertex
In terms of the receding hairline, stage 3 vertex balding is a less drastic version of stage 3.
However, people experiencing stage 3 vertex balding will also begin losing hair on the crown of their head. This often starts as one small bald spot.