Procedure detail
Bernstein Medical - Center for Hair Restoration Patient AYL is an Early Norwood Class 5A with straight, fine, white hair and a donor density of 2.0 hairs/mm2. He had one hair transplant consisting of 2,174 follicular unit grafts. Photos were taken before and then one year after the hair restoration.
See patients with similar characteristics in the Bernstein Medical photo galleries: 
Surgical Sessions: 1 Session
Hair Character: White, Straight
Hair Weight: Fine
Donor Density: 2.0 hairs/mm2
 Additional Resources: 
View Patient AYL's photo profile at Bernstein Medical
Visit our Hair Transplant Photos galleries or browse our patients by their Norwood Class
Interested in a consultation? Click here to schedule a consult or here to read about our consultations
New to hair restoration? Read our comprehensive guide to Hair Transplant surgery or our Hair Transplant FAQ
Visit the Bernstein Medical YouTube channel
Bald class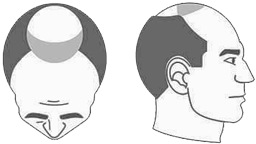 Norwood stage 5A
In stage 5A, the hairline continues to progress toward the back of the head.